R NADESWARAN, better known as Citizen Nades, has spent years as the heart of theSun newspaper's special and investigative reporting team. An award-winning veteran journalist, Nades has reported about local government issues since he started his career as a reporter with The Malay Mail in 1978.
Born in 1952, the 59-year-old has dedicated himself to uncovering many hard-hitting truths about corrupt practices and the abuse of power within local councils and state governments in Malaysia. The Port Klang Free Zone and Istana Zakaria mansion scandals are among the exposés he has written with his then partner, theSun's deputy news editor, Terence Fernandez, who has since left the paper.
Currently in London as theSun's UK correspondent, Nades shares his hopes with The Nut Graph in a 28 June 2011 interview on Fleet Street.
TNG: What are your earliest memories?
R Nadeswaran: I was born in Klang, and my earliest memories are of growing up in an estate. My father was an estate conductor, a clerk of sorts. I remember the whole family then had to move into town because we were going to school there.
I was brought up strictly on cow's milk [laughs]. We had seven cows in our house, you see, and everything was about cow's milk. While my dad worked in the estate, mum worked as a [homemaker]. With my sister and two younger brothers, we were a close-knit family. [And our] cousins would always come around during the weekends.
Can you trace your ancestry?
Yes, I went to Sri Lanka [to] the village of both my parents. They were all farmers, my family. Land was handed down through the generations. My parents and their parents came from Jaffna.
The caste system still exists in Sri Lanka, and we were all from the farming class. My father came to Malaya as a young man in 1934. He went back to Jaffna in 1936 and married my mother, and then brought her here. The Ceylonese Tamils who were brought into Malaya were either in the civil service, railways or the estates because we were English-educated and could do paper work.
Can you describe the community you grew up in?
In Klang, I stayed in a really cosmopolitan neighbourhood. I would stay next door at Manap's house — he was my best friend — and then there was the Yap family nearby. They would come to my house, my mother would cook and we would spend the whole day there. They were fun times, and I never saw anything to do with race in my entire school life.
In those days I used to be a school debater and during the Bulan Bahasa Kebangsaan, my cikgu would help me through the paces in the debating competition. My Malay [Malaysian] friends would lend me their dress and songkok. Nobody ever bothered about race or religion.
I think this changed after 13 May 1969. I was 18 then, and I lost a classmate. In those days, there was no Form 6 in Klang. If you wanted to do it you had to go to KL, and this classmate did. He was caught up in what happened in the city.
On the brighter side, a week after the riots we all went around with bicycles in Klang and got everyone to play a game of cricket. We were all races, and everyone came out. There was no animosity, maybe because we were not in KL.
What are the stories or values you have carried on from your youth?
My mother always put a strong emphasis on being honest. And she always told me, if you owe someone money and you cannot pay it on that day, fix a new date instead of hiding from him [or her]. She was a stickler of a woman. I was only 13 years old when my father died, so from then on I was effectively raised by mum.
Another thing my mother taught us was the spirit of the co-operative. I used to buy back a hundred pounds of milk powder, sacks of potatoes and everything else, and the neighbours would all share this. We were very thrifty and would bulk buy. Also with the Ceylonese it was all about education, and the Jaffna community thought that education would get you everything else.
You are known to many as "Citizen Nades". At what point did you start developing these concepts of being Malaysian?
It must have been in The Malay Mail. Those days in the 1970s, the paper was known for championing people's problems and everything else. In fact, I conceptualised their hotline as a young reporter during a revamp of the paper. People would call the hotline, and we would take it from there. We understood the people's frustrations.
You know, I pay £140 in council tax here in London. And the council gives me access to reports. I can inspect their accounts and contracts, and question their auditor. That is the basic thing people ought to have.
But in Malaysia, it is done in secrecy. As an example, this guy in Section 14 (in Subang) went and bought land along a road of single-storey terrace houses. The road is so small, and [yet] there is now a 20-storey condominium there, which cannot take the traffic! People's participation was not there [during the planning stage]. But the project was approved, and so there are those traffic jams today.
What do you hope for in Malaysia?
I kind of have faith in what (Prime Minister Datuk Seri) Najib Razak is doing. He made some very strong speeches here in Oxford. Najib quoted from the Torah and the Bible, so if you have a prime minister who sees nothing wrong with using these words, what's wrong with these other [people]?
I regret that a few people have changed how we interact with each other, such as the one who wrote that e-mail about it being haram to wish someone Merry Christmas? These are the individuals who make it difficult for all of us. Hypothetically, if the prime minister's secretary is getting married in a church, shouldn't he attend the wedding? So what is this paranoia about religious places?
I was with the imam of a mosque here the other day, and I asked him if I could attend Friday prayers. He said to come, and come clean and with a clean heart. I'd like to see that kind of thing in Malaysia because now everybody is seeing things with a religious or racial view — from what we eat, drink and wear.
I would also like to be able to walk into a government department, and ask, "Can you please tell me how much of state land was developed in the past year?", and get answers. If you have an open society and people who are careful with spending public money, your tax dollar will go a long way. I'd like to see that, and not civil servants treating us as if we owe them a living. Here [in London], the civil servants treat you as a customer or a client.
Having said that, I'd go on record and say we have the best chief secretary to the government now — Tan Sri Mohd Sidek Hassan — a man who engages the people and encourages engagement.
What would be your advice to Malaysians who want to make their government more accountable?
I would start at the local council level. Demand to see their accounts. Push the councillors — ask them how they spend our money. If you want to fight corruption you cannot fight top down. I would suggest that we go to MBPJ (the Petaling Jaya City Council), which used to be one of the country's most corrupt councils, and set all the rules, regulations, good practices and procedures. Experiment with it for two years, plug all the loopholes, and then you have a perfect system in MBPJ. Now you export and replicate that same system to the other 160-odd local councils.
When you have local councils covered, the next step would be the state, and then the federal [government]. When you get up in the morning and see uncollected rubbish or potholes you scream, "Useless government!" But this is not the government's fault. It is the local council's, [which is] the first form of government you will come into contact with.
Over here, my rubbish is collected every Friday morning. One time, it was still outside. [So] I e-mailed the local council and they replied immediately, saying their truck had broken down and that the rubbish would be collected on Saturday morning. If people can demand and get answers like that, I think that is the first step of getting a better Malaysia.
---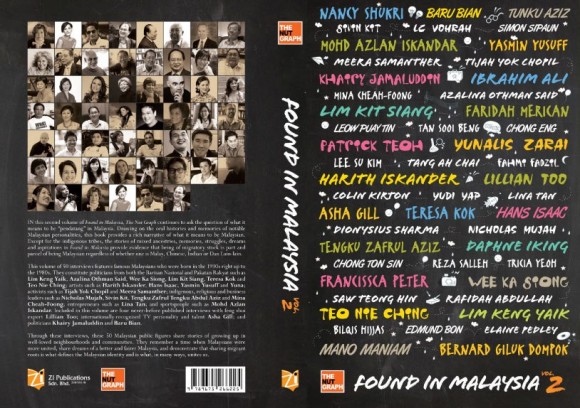 The book Found in Malaysia Volume 2, which was launched on Malaysia Day 2011, is now available in bookstores for RM50. It features previously unpublished interviews with Asha Gill, Lillian Too, Khairy Jamaluddin and Baru Bian. Volume 1 of Found in Malaysia, featuring 54 earlier interviews, is currently in its second print run and retailing at RM45.