CRITICISMS towards moral policing in Malaysia are nothing new. Back in 2005, the Federal Territories Islamic Department came under fire after its infamous raid of Kuala Lumpur's Zouk nightclub. After the Muslim detainees' claims of sexual harassment and other abuse by religious enforcers, the government sought to curb moral policing, in rhetoric at least. In 2006, then de facto Minister of Religion Datuk Dr Abdullah Md Zin also admitted to procedural flaws in enforcing khalwat (close proximity between unmarried men and women) laws.
But the truth is that the institution of moral policing also has deep support. In 2008, for example, the then president of the Malaysian Syarie Lawyers Association, Zainul Rijal Abu Bakar, said: "Have we forgotten that building a moral and upright society is one of the basic principles of [Malaysian] nationhood? If we want to abolish morality legislation, the fifth principle of the Rukunegara ('good behaviour and morality') should also cease to exist."
Because morality legislation is often enacted and applied in the name of religion, the debate often gets emotional and tense. Perhaps a better way to frame the discussion on moral policing would be to analyse the substance of moral policing laws, and the procedures involved when moral policing is actually implemented.
Regarding the laws' substance, some questions people could ask are: Where do these laws come from? What areas do they cover? Why do we need these laws in the first place? If they are enacted in the name of a particular religion, for example Islam, do they differ from Muslim society to Muslim society? If yes, why; if not, why not? Regarding moral policing procedures: How do enforcers go about doing their jobs? What happens before, during and after a moral policing operation? Who are enforcers accountable to?
Disquieting picture
In our attempt to understand moral policing in Malaysia, The Nut Graph ran a series of four interviews with individuals who have encountered the moral police. We wanted to know from a procedural perspective what actually happens during, for example, a khalwat raid.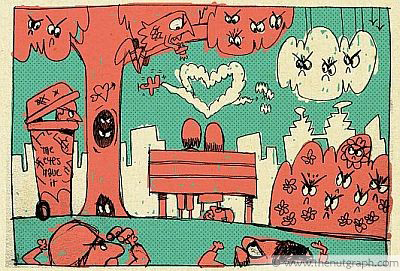 Although the four interviews hardly represent the total number of individuals who have encountered the moral police, they do paint a disquieting picture. All the individuals interviewed seemed to have been arbitrarily targeted. In all cases, varying degrees of intimidation were employed. In some, enforcers used violence. One interviewee even testified there was corruption involved in her case.
And then we have to ask if there were any underlying prejudices involved in how the different targets were treated. For example, Mona Abu Bakar, a middle-class, English-speaking daughter of a high-ranking civil servant, got off minimally embarrassed and inconvenienced. But Rina and Ros, two transsexual women who are arguably lower than middle-class, were physically and verbally assaulted by religious enforcers. In between the two extremes is Nabila Nasir, a young, urban, middle-class Malay Malaysian woman who was intimidated and verbally harassed for dating a Chinese Malaysian man.
The comparison doesn't end there. Mona and Nabila eventually got off without facing any charges. Rina and Ros, on the other hand, had to face the syariah court a mere days after they were detained. Rina and Ros also testify that they did not have legal representation when they appeared in court and were eventually fined RM700. But in any legal proceeding, shouldn't an accused have the right to a lawyer and to be presumed innocent until proven guilty?
Substance vs procedure
It would appear, then, that moral policing in Malaysia does not have clear processes and systems for individuals to safeguard their rights even within the syariah framework. Nevertheless, proponents of syariah-based moral policing in Malaysia often point towards the comprehensiveness of Islamic legislation. Islam does not separate between personal and public morality, we are told. In other words, criticisms against procedural abuse are countered by quoting the idealised substance of Islamic legislation.
But this idealised view of Islamic law does not take into account the fact that Islamic law can only be applied by human beings. Human beings are flawed creatures prone to making mistakes, despite the best of intentions. And we cannot discount the fact that there are probably a large number of religious enforcers who hold racist, misogynistic, or homophobic views, or who are not above engaging in corruption. The question remains: If the moral police are there to watch over our morals, who watches the moral police?
And in Malaysia's syariah-based moral policing legislation, it is not only transvestism  and khalwat that are considered crimes. Non-compliance towards other personal religious practices is also considered crimes punishable by the state. The provisions are quite catch-all, and the Malaysian system conveniently confuses the substance of Islamic morals and the procedures in human application of Islamic laws. Therefore, in order to untangle the substance from the procedures of moral policing, we eventually need to analyse the substance of Islamic teachings.
Substance vs substance
For example, though it is a virtual consensus that alcohol consumption is a sin in Islam, does Islam, in its substance, advocate worldly punishment for Muslims who consume alcohol? And though the view is that Friday prayers are obligatory for Muslim men, does Islam actually view non-attendance of Friday prayers as a crime?
This is where diverse interpretations of Islamic law and thought emerge. Predictably, this is also where the debate gets shut down in Malaysia. Advocates of the Islamic status quo invariably panic that these questions are "insults to Islam", itself a crime punishable under syariah law.
And so, this is how state-sanctioned moral policing perpetuates itself. Fear, shame and intimidation are effective ways for the moral police to assert their authority – just look at how Ros, Rina and Nabila's Chinese Malaysian ex-boyfriend capitulated. But in the end, even citizens in the most repressive of environments start getting sick of feeling afraid.
Take, for example, the Saudi Arabian woman who was stopped by a religious enforcer in May 2010 when she was walking in an amusement park with a man she was not married to. She got so angry that she beat the religious enforcer up and put him in hospital. Or how about the two Saudi women stopped by a religious enforcer in 2007 apparently for wearing makeup? One of them took out a can of pepper spray and emptied it into the religious enforcer's face. Her friend filmed the incident with her mobile phone while calling the Saudi religious enforcers "terrorists".
While some might find these stories funny or even justified, they demonstrate that the violence and arbitrariness of moral policing only beget more violence and arbitrary retaliation. The only way out of this ugly spiral is for open public debate on moral policing to be allowed and encouraged. And in a true democracy, such open public debate would eventually allow society to settle on what kind of laws its members want in order to have their rights safeguarded and upheld. Will this ever, however, happen in Malaysia?
Related posts:
Married but busted for khalwat
"Is Chinese penis really that good?"
"Diam, pondan!"
"Memang kami kena guna kekerasan"
Kartika's protest
The Nut Graph needs your support